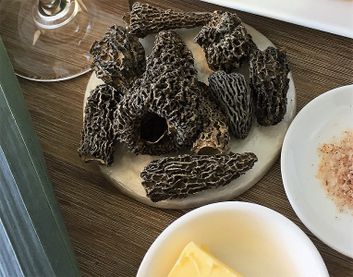 WHY DRIED? 
Dried mushrooms are an easy and convenient way to enjoy mushrooms.
Some mushrooms are only available fresh for a few months each year and grow only in certain parts of the world.
Dried mushrooms can appear expensive, but they actually deliver a better flavour and nutrition bargain by weight than fresh mushrooms as the drying process enhances and intensifies their flavour and concentrates their nutrients.
Dried mushrooms are non-perishable and will last for up to two years when unopened in our airtight packaging in a cupboard.
They are significantly lighter without the water weight and won't take up fridge space.
It takes 9-10 grams of fresh mushrooms to make 1 gram of our dried mushrooms. 
     HOW TO USE?
As a general guide, 5-7 grams of dried mushrooms is sufficient for one serving.
To rehydrate the mushrooms, soak them in a small bowl of hot water for 20-30 minutes, drain and rinse well.
Morels often grow in fire damaged forests, so they may have some ash residue on them. We recommend that our morels are cleaned by gently squeezing them in your fingers whilst they are soaking in the water.
The left over liquid can be used as a delicious and nutritious stock. Ensure to discard any debris at the bottom of the bowl.
Once rehydrated, the mushrooms should be added directly to the dish during the cooking process.
Store dried mushrooms in a cool, dry place, away from direct sunlight. Once opened, ensure they remain zip locked in the stand-up pouch and we recommend they are consumed within 3 months.